In Memory
Jeff O'Brien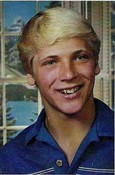 November 22, 1962 - June 9, 1982
O'Brien, Jeffery M. passed away June 10, 1982 Survived by his Mother Sally O'Brien, Spokane, Father, Robert W. O'Brien, Spokane, one sister Deborah C. O'Brien Spokane, half brother Robert W. O'Brien Jr. Spokane, half sister, Jennifer A. O'Brien, Spokane, Grandmother Genova C. O'Brien, Spokane, Grandfather, Mr. and Mrs. Robert Hall, Seattle, WA, numerous aunts, uncles and cousins. Funeral Services Sunday June 13, 1982 at 4:00 p.m. Unity Church of Truth S. 2900 Bernard. Rev David W. McClure officiating. Committal Services Monday June 14, 1982 at 1:00 p.m. Holy Cross Cemetery Chapel Hennessy Smith Funeral Home, N. 2203 N. Division St. in charge.
Spokesman Review June 10, 1982
Fiery auto accident claims life
Jeffrey M. O'Brien, 19, Spokane, was killed and another injured Wednesday night in a fiery one-vehicle accident north of Spokane, the State Patrol reported.
Troopers said the accident occurred just after 9:00 p.m. on Shady Slope Road at Farwell Road. The vehicle apparently caught on fire after the accident.